June 30th, 2020
938 Views
---
Introduction
Exploring Gurugram good way is all about Gurugram and what all you can see there. Hey friends, I hope you all are keeping well and staying safe while being at home. So I was just thinking from a few days what article should i put up next for people to connect to it better. And then the idea of bringing to you the story of my hometown came up . Yes the amazing place called 'Gurugram' where i belong to so lets explore this fun city.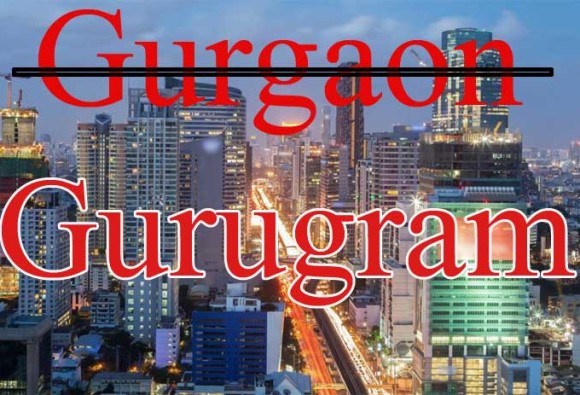 Source:smartcity.eletsonline.com
This beautiful city with big buildings,malls,metro stations, eating hubs and diversity of people has developed a lot since old times .
The place which was earlier called 'Gurgaon' recently got its name changed to 'Gurugram' and you know why because its 'guru ka gaon'.
That's what i have been told by my parents since childhood, the city holds a special mention in times because it is the place where the great saint Guru Dronacharya lived.
Well i don't know much about the history but since i have heard these stories for quite a long time now  so i have started assuming them to be true.
But hey don't go by the name it is a cyber city with the most advanced infrastructure and nothing like a typical village anymore.
Apart from being the working hub, it also has some great places that you can explore while in the city.
Now that i have lived here since birth i can guarantee you one thing that you will never be disappointed visiting this place.
10 best places to visit for some fun with your family and friends when in gurugram:
The Sultanpur Bird Sanctuary


If you are a true nature lover and you enjoy spending time with the beautiful creatures of mother earth then this place will have your heart.Once you reach this sanctuary the thing which serves to attract you is a big board outside the place which has the names and pictures of the amazing birds that one can get to see there not only this  but you can also witness the uniquely identified 'blue bull' or the 'nilgai' at this place.

The bird sanctuary is worth a visit in every aspect as you get peace of mind in such a calm environment also you feel good about everything you view there. The chirping sounds of birds seem to be a sweet melody and you can also climb the towers for a better sight seeing. This place is a must visit the next time you are in gurgaon also carry your food as there are as such not much options over there.Pack your meals from home and sit in the park and enjoy your food while witnessing it all.source:www.holidify.com

Damdama lake


Another place which remains my personal favourite is the wonderful damdama lake .Yes this place is too located in gurgaon and it also has a mesmerizing view.All those who want to spend some quality time with their loved ones must visit this place as it has got some interesting games like camel riding,boating etc which you can enjoy with your friends and family.

Also if you want to stay there for some time then there are options like a resort booking etc but then i must tell you that it is a costly one and thus keep in mind your budget before planning to stay back.The lake has a breath taking view and you feel so satisfied and happy while looking at it.I have been to this lake and trust me I still remember each and everything about it.So you too can plan a trip to this beautiful place soon.source:www.trawell.com

The "Kingdom of dreams"

Yes KOD or Kingdom of dreams is yet another delightful place to be. This little kingdom is actually quite a superb experience in itself. The culture gully tickets cost around 600 bucks but all of it is redeemable i mean you are made a card for the money paid which can be used to eat,buy things inside the gully.It also has some shows like zangoora etc but again it costs more so you can decide according to your pocket
"THE Aura of culture gully"
Once you enter culture gully, i have to say this that it looks no less than a dream.I mean the kind of artwork and aura that they have created gives you the feel of being in some other country only. The blue sky,the paintings,the food,the huge posters of movies ,the culture of different states show cased so well everything seems just so perfect.
This place is so appealing to eyes from inside to outside all appears to be glittery and gold.I had some superb moments with my friends getting clicked,eating the food of different states and also buying some stuff with the money left in the card.The time spent here is worth every minute.Plan a visit to this place and have a life long one time experience.Source:www.hindustantimes.com

Cyber hub and  Ambience Mall


If you are a foodie do visit the most loved hub of the city called 'the cyber hub'.There are so many options to choose from as it hosts a number of cafes and eating joints.Also the ambience mall which is located close to cyberhub is a good choice if you want to spend some good time with your dear ones.Both of these places are ideal for food and fun at the same time.Also you can reach them easily by catching gurugram's very own rapid metro.Do go to these places if you have a lot of time because an hour or two won't be enough.Source:www.tripgully.com

Aravali biodiversity park

Another excellent place for the green panthers or the people who love the company of mother earth.This biodiversity park has a lot of things which you can explore with your family and friends also you can trek the park and have fun.It gives you all the feel of being in an adventurous jungle with aravali hill accompanying you since beginning.source:www.hindustantimes.com

Let us now talk about the most important things one looks out for whenever they visit a new place and yes you have guessed it right the best places to eat and shop.So,here I am sharing some of my favourite joints to eat out and also some shopping addas.

Sector 14 market


This place tops my list for good food and some easy on pocket shopping .It won't be wrong if I call it  a mini  " Sarojini Nagar" of Gurugram. Yes , you have so many food options to choose from like if you fond of eating street food then the momos stall,the pav bhaji stalls etc at the roadside are just the perfect option for you.Otherwise also if you want to enjoy food plus spend some quality time then there are many outlets for you have a fun time.

And when it comes to shopping there are many shops,stores and also the pavements are laid down with almost all the stuff you need whether it be shoes,heels,books,cosmetics,jewellery,household items etc.I love visiting this place always so must give it a try people.source:www.vlogitgurgaon.com
Sadar Bazaar Market


This market located in the heart of gurgaon is the place which can fulfill all your shopping needs.The market is full of options to choose from.Also it has some quick bites eating points so it seems good for the tummy as well.You can buy anything and everything here.

The main attraction of this place is the long statue of lord Hanumana located just at the point from where the market begins and it truly is quite mesmerizing and gives you all the positive vibes that one needs.This place remains overly crowded at times but its fine because after all it remains worth it.source:www.lbb.com
MG Road


Or the Mehrauli-Gurgaon road is the place which has a number of malls and enough choices to calm the hunger pangs.There are many options to shop like the MGF mall,metropolitian  mall,city center,sahara mall,lifestyle etc having numerous outlets and showrooms of different brands.

So head to this place straight if you have plenty of money to spend on buying stuff and also if you want to munch on some delicious food with a perfect atmosphere to relax for a while.
This area happens to be the most loved because the place has just so many things around i mean movie theater to gaming zone to kids corner and so much more.I am sure you too would be happy being there so next time get down at MG road metro station and walk to these amazing places around.source: www.99 acres.com

Sector 29 and leisure valley park


Okay so this place called the sector 29 is slowly becoming the new hotspot as all the youngsters can be found hanging around here.This place has a lot of highly expensive and fun cafes,clubs,bars ,restaurants and all that it takes to call a place happening.Yes if you want to enjoy some amazingly delicious food with some music or want to take a walk with your partner or friend then this place is a heaven for you.

You can easily spot this place as it is located very much near to the famous " leisure valley park". And this park also is a very famous one since most of the events wherein popular faces come up to perform are hosted here.Otherwise also this park is quite big and has a lot of greenery so if you want to spend some special time alone then visit it.It will surely give you some fresh air alongwith good vibes and peace of mind.source:www.magicpin.com

Galleria Market


Another excellent place for good food and some shopping.This market is a small one located near huda city centre metro station. It too houses a lots of small shops,stores,eating junctions,cafes etc.My personal favourite is the wanderlust cafe.Though this cafe isn't too big but still it has my heart.Because of the way they have designed it. There are comfy bean bags to chill.

Also it has books if you want to read something and a cute swing type of thing.This place is just so astounding. And the mouth watering food serves as the cherry on the cake.This market is also quite popular among the locals.source:www.so.city.com
So these are the few places which i find are worth a visit the next time you are in gurugram.
Also if you are a bit religious and want to visit some holy place so come here because it won't disappoint you at all.
"The holy place and very famous Sheetla mata temple"
This place is also a special attraction of my city.The goddess " Sheetla mata" is worshiped here and people from all over the country come here to seek the blessings.This temple gives you such good vibes and you almost forget all your worries.When lost for a while, go to this place and you will find yourself back.I visit this temple often as it soothes my heart and soul.
I believe that god listens to everything you say and understands all that goes in your head. So whenever such times come when you just feel helpless,pick yourself up and drive to this holy place. I promise you will be fine soon.Because god ultimately heals it all.
source:The divine India
"The Iskcon Temple"
source:www.templesinindia.com
This temple is devoted to lord krishna and is yet another perk of the city. This place is worshiped with full devotion. It is also just the right place for the broken souls in search of peace. The calm environment is indulging enough to make you feel good about things.
Whenever you are dealing with all the ups and downs of life the one thing that remains permanent is remembering god. So go to this place to thank god for everything that you have and to seek blessings and happiness for all. The more time you spend here the more you start loving it. This holy place is all about positivism.
I hope after reading it all you might be waiting to visit my city once. All i want to say is you are welcomed whenever you want to explore it. Wishing all of you to stay healthy and happy. Avoid visiting places unnecessarily right now because of the current situation. But definitely give it a try once things are back to normal. Until then stay safe and keep smiling.
Also read : https://buzzofthehour.com/budget-friendly-areas-to-see-in-delhi/ and http://www.perfectlymessed.com/?p=124
Take Care
Rashi Saini….
---
---
---
---